By choosing outdoor patio teak furniture, you have selected the finest, most durable material available for use in the construction of outdoor furniture! Teak is a product of natural beauty - no two specimens are ever exactly the same.
Teak's unique blend of grain and coloring can vary from light to dark brown. Occasionally, you may see a pinkish tint, which is due to the kilning process. Upon exposure to natural light, color variations will gradually even out over time.
Teak is a very low maintenance wood. Weathered teak takes on a beautiful silver gray and will last for many years in this natural untreated state. As it ages, your teak furniture will lose the smooth texture that comes from the combination of fine sanding and natural oils. As these natural oils are depleted from exposure to ultraviolet light, the surface will become more porous and thus feel rougher to the touch. You may also notice small checks, or cracks, along the grain appearing. Aside from occasionally cleaning your teak to remove dirt or bird droppings, there is really no maintenance that is required to prolong the life of your teak furniture.
Many people simply love the natural color of the teak wood and want to prevent the graying process. Traditionally, people have applied teak oil to the wood in an effort to slow the graying process. There are several disadvantages to this solution:
1. Teak furniture that has a maximum of exposure to natural sunlight during the day will require monthly applications of teak oil.
2. No product is made with the actual oils found naturally in teak. Teak oil that you find in stores is actually a linseed or tung oil mixed with chemical solvents. Since these teak oil products are organic, they actually promote the growth of mildew by providing a source of food for mildew. Therefore, we do not recommend the use of teak oil on your teak furniture. However, using these oils causes no real harm to the wood, and the finish does look nice when first applied. It is still a low cost and readily available solution should you decide that this high frequency maintenance schedule is acceptable.
Fortunately there are products available these days that reduce the frequency of an ongoing maintenance schedule to accomplish this goal. We recommend a teak sealer, which contains a UV blocking agent and a mildewcide. Proper application can drastically reduce your maintenance schedule by preserving the teak wood for up to 12 months of protection before reapplication is necessary.
Preserve: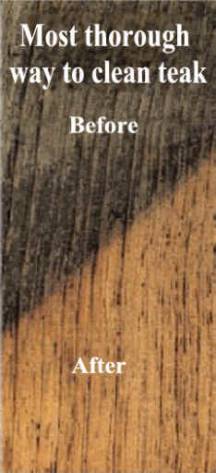 The natural honey color of new teak is unique and beautiful. If you wish to preserve this, we recommend that you treat your teak furniture with our teak sealer, which contains UV protection and a mildewcide. Teak sealer is far superior to teak oil as it can provide up to 12 months of protection before reapplication is necessary. Your purchase of teak sealer comes with instructions on how to apply the sealer to your teak furniture.
Previously sealed teak should be resealed occasionally to compensate for environmental wear and tear. Recoating should occur when water splashed on the surface soaks in, instead of beading. We recommend applying several coats to the top of teak tables or teak side tables that will come in contact with food or drinks.
Weather:
If you wish to achieve the weathered, gray look of natural teak, then simply do nothing. Over time, the teak will become rough in texture and the natural oils will be depleted, causing cracks along the grain. This is a natural process that you should expect to see on any outdoor teak furniture. You may wish to seal the teak after it achieves the desired gray color. This will improve the lifespan of the weathered teak.
Restore:
If your teak furniture has weathered or becomes stained by food or mildew, our teak cleaner will restore the wood to a "like new" condition. Our two-part cleaner will remove food, mildew, weather or water stains. The furniture may be cleaned at any time in its life, but we do not recommend cleaning on a regular basis as it will exacerbate the aging process. You may wish to maintain this new look by using a teak sealer afterward.
Whether you have a teak dining set on your patio or a teak bench in your garden, we know these products will protect and preserve your teak for many years of beautiful and enjoyable service!