Teak History:
Originally from Southeast Asia, the teak tree lives on average 100 years. Indonesian teak is considered the highest quality in the world. Teak prides itself on its longevity and ability to withstand harsh weather conditions. Teak tree resin produces natural oils that are incredibly water-resistant. These oils protect the tree from corrosion, termites and other damaging factors. Teak combines strength, rich color and an unmatchable lifespan, making it a sought-out wood for outdoor furniture design.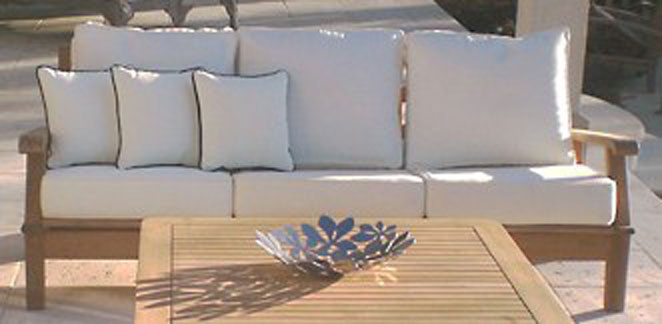 The largest producer of Indonesian teak is located on Java Island. Java Island's climate and geographical location make it an ideal spot for teak forests. The Indonesian Government manages and monitors teak wood and supplies it for export. Manufacturing teak wood is a timely process, which is why furniture workers from across the world are employed at Java Island to raise and turn teak trees into gorgeous teak furniture. The longer the tree lives, the better. Teak trees that live longer than 40 years are sliced at the bottom so water can drain from the wood. This draining process takes up to two years. Once the tree dries out, it is transformed into beautiful prestigious furniture.
Teak's popularity expands worldwide. India and Denmark use teak as their main resource for wood. The increase in demand and decrease in supply makes teak wood a highly-pursued and valuable product.
Teak Benefits:
Teak endures all weather conditions, repels insects and does not split, crack or corrode. The beauty of teak is another advantage. The natural glow from the high oil content is seen year round and survives an extended period of time. Teak wood maintains itself. Cruise ships, furniture lovers and craftsman chose teak because its strength, quality, appearance and lifespan is unsurpassed.
Take Cleaning Info and Furniture Care:
Teak furniture maintains itself, but occasional polishing is recommended to preserve the natural honey tones in the wood. The wood's natural beauty will be enhanced from an occasional polish treatment. Teak Furniture Outlet sells Teak Cleaner to protect and maintain your furniture. The cleaner is 100 percent biodegradable, water-based and non-toxic. This cleaner is easily applied and only needed periodically to replenish the honey color in the wood.
Teak Furniture Outlet also sells Teak Sealer to apply after the furniture is cleaned. This product contains a UV protectant, as well as biodegradable and non-corrosive components. Applying the teak cleaner and sealer to your wood ensures years of long-lasting vibrant color.
If you chose to not apply teak sealer and cleaner, teak wood will turn a natural gray color. Some customers prefer the look of aged teak wood because this shade is equally beautiful. The graying process is a natural part of the teak aging procedure. You decide on the color choice. The shade transitions do not affect the benefits of teak wood.
Teak Seating:
Chairs
Teak Furniture Outletoffers several chairs to meet your seating needs. Choose from the classic, skipper, avant, stacking, barstool, rocking and variety of folding teak chairs available with or without armrests. All of the designs are equally beautiful. Teak outdoor chairs pair great with teak benches or teak table sets. Combining different styles of teak creates an inviting outdoor area for guests to relax.
Teak folding chairs are excellent if space is an issue because these chairs are functional and easy to move in and out of storage. Every teak chair is sturdy and durable for years of outdoor entertaining.
Benches
The teak bench is Teak Furniture Outlet's most popular item. These benches add elegance and sophistication to any outdoor patio. Parks and upscale shopping regions usually house teak benches for pedestrians to enjoy. Styles such as backless, loveseat and classic teak benches are available to fulfill the customer's desires. Sizes range from 4 to 8 feet, allowing room for two to four people to sit, respectively. Teak benches feature several designs and look welcoming when combined with teak dining tables and teak chairs. A teak bench is an ideal option for a garden, backyard, pool area or commercial site. Teak Furniture Outlet's variety of bench designs will exceed your expectations.
Chaise Lounges
What better way to relax outside than on a teak lounge chair? Teak chaise lounges offer you the option to sit up or lay down. Teak Furniture Outlet offers two styles of teak lounges giving customers the option to unwind and stretch out after a long day. These lounges look great as poolside accessories and are often provided by resorts on the beach. Because of the low maintenance, your chaise lounge can sit in the sun year-round without weather damage.
Steamer Chairs
Steamer chairs always make a fantastic choice for cruise ships and high-end resorts, and this chair design will add chic sophistication to your backyard or commercial site. Teak Furniture Outlet sales one teak steamer chair design with the option of a comfy cushion.
Deep Seating
If you are looking for comfort, deep seating teak furniture is your answer. This deep seating feature adds luxury and coziness to your outdoor space. People who spend hours outdoors should appreciate this option. Deep seating teak furniture illustrates a timeless design with a stunning appearance. Teak Furniture Outlet provides customers with several deep seating choices. Customers can choose from sofas, ottomans, loveseats, recliners, chairs and sectionals to complete their outdoor living space.
Teak Tables:
An outdoor seating area is not the same without a few tables. We have several options and sizes of tables to match your look, so you can spend hours outside relaxing on your teak furniture. With a table, you can even have dinner.
Side Tables
Teak side tables come in round, square and rectangle shapes. Some of the styles feature folding legs for optional storage. Side tables complement teak sofas and chairs because these tables provide a place to rest items such as drinks, books, snacks or decor. Heights range from 18 to 29 inches to accommodate your additional pieces of furniture.
Coffee Tables
Teak coffee tables are also available in round, square and rectangle shapes. We provide several options in height to coordinate with your teak outdoor seating specifications. Teak coffee tables add that extra touch you need to create an outdoor living space to relax day and night.
Folding Tables
Choose teak folding tables if you are the type of outdoor entertainer who periodically hosts parties, but doesn't spend all day outdoors. These ideal folding tables save space and are easily storable. Teak Furniture Outlet offers folding tables in round and square shapes, as well as side table and coffee table dimensions.
Teak Furniture Sets:
Teak Furniture Outlet prides itself on customer service and convenience. We offer our customers teak furniture sets at affordable prices with free shipping. Instead of buying several teak furniture pieces, you can make one selection and obtain everything you want in one purchase. Each style is clean and consistent, making backyard shopping easy for everyone.
Miami Deep Seating
The Miami Deep Seating Teak Set ranges from five to six piece sets. Teak Furniture Outlet features five options for the Miami Deep Seating style. Each design has the ability to create a breathtaking outdoor living space. The five Miami styles include sofas, loveseats, ottomans, coffee tables, side tables and teak chairs. Each set comes with thick and stylish deep seating customizable Sunbrella cushions. This contemporary design is a definite eye-catcher.
Georgia Deep Seating
The Georgia Deep Seating Teak Set comes with one teak loveseat, two teak chairs, one teak ottoman, a coffee table and a side table. This six-piece design offers elegance and class to any space. The set includes standard white cushions, with the option to upgrade to Sunbrella cushions. This simple design will take your breath away.
Teak Accessories:
Looking for something to complete your seating area? Teak accessories allow an easy and affordable way to add high-quality wood into your look. Teak Furniture Outlet provides unique accessories to match your outdoor furniture, such as bird houses, planters, trays, serving carts, lazy susans and storage boxes for your patio or backyard. All of our teak accessories are made from the same high-quality wood as our teak furniture.