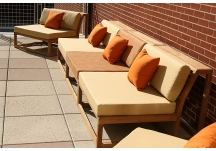 What makes Auburn the "loveliest village on the plains?" Some would say it is because of Toomer's Corner, Tiger Walk, Eagle Flight, Hey Day, Aubie, A-Day or the "War Eagle" battle cry. However, if you look a little deeper, Auburn University gets its "loveliest village" attributes from more than just traditions. Auburn's gorgeous campus is known for its red brick buildings that have history and novelty such as Samford Hall. Auburn's campus is covered with breathtaking landscape and hundreds of oak trees dated back to the campus's origination.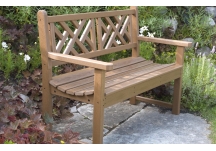 Several years ago for Christmas, I bought a very good friend of mine a teak bench for her outdoor area. She was always wasting money buying cheap outdoor furniture that would rot and mildew by the end of the summer. Living in the south, I knew she needed to invest in something better. Teak furniture was always my suggestion but she thought that teak was too expensive. Why waste money when she could get something much cheaper that looked fairly similar.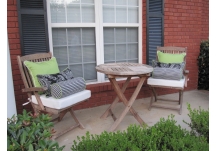 After years of neglecting my outdoor living space, I decided to make an investment in teak furniture. I did some research on the inherent qualities of teak wood and the natural teak oils that protect the wood from the elements, rot, insects etc. As I learned, teak wood requires no maintenance, staining, and protective coating or otherwise. As a matter of fact, it is recommended that nothing is done to the wood!! Unbelievable. I thought all wood other than pressure treated wood would rot. Over time, teak wood will take on a natural silver gray hue.