Teak Furniture Outlet Takes on the Loveliest Village
By Whitney Hicks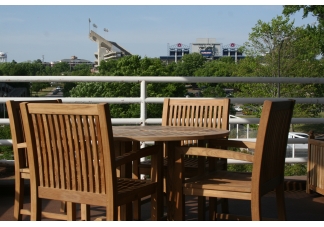 What makes Auburn the "loveliest village on the plains?" Some would say it is because of Toomer's Corner, Tiger Walk, Eagle Flight, Hey Day, Aubie, A-Day or the "War Eagle" battle cry. However, if you look a little deeper, Auburn University gets its "loveliest village" attributes from more than just traditions. Auburn's gorgeous campus is known for its red brick buildings that have history and novelty such as Samford Hall. Auburn's campus is covered with breathtaking landscape and hundreds of oak trees dated back to the campus's origination. Auburn's beauty is reflected on the faces of students and faculty that sit in the grass and experience class outdoors in the breathtaking scenery. The flowers, the smells, the colors and the nature that spreads across Auburn's lovely campus are what make it a wonderful experience.
Auburn is constantly undergoing renovation which is why the campus has a reputation for its gorgeous appearance. The students and faculty enjoy coming onto campus because of the beauty and atmosphere that surrounds them every day. Throughout the past year, the Athletic Department and the Student Center at Auburn University have worked to re-vamp its outdoor areas to add another extra touch for Auburn recruits and students.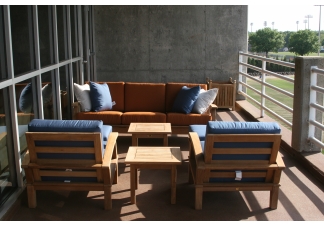 Auburn football coach, Gene Chizik, decided to create a place for potential recruits and their families to come relax and soak in the beauty of Jordan-Hare Stadium and the "loveliest village on the plains." To do this, Coach Chizik chose Teak Furniture Outlet and Cushion Source to create a beautiful outdoor area for that portrayed the Auburn spirit.
The athletic department chose the Miami Teak Set from Teak Furniture Outlet, along with three teak planters and a teak table set for outdoor festivities and occasional dining. Teak furniture was the athletic department's number one choice because it requires little maintenance, it doesn't crack or split from weather damage and its appearance and its lifespan is unmatchable.
Cushion Source created the cushions with Sunbrella Sapphire Blue and Sunbrella Nutmeg to represent Auburn's team colors. The throw pillows are made with Sunbrella Sapphire Blue and Sunbrella Canvas. Auburn chose Sunbrella fabrics because of their reputation and sustainability. Sunbrella is known for its superior high-performance fabrics and its fade, and water resistant features, which makes it the best on the market when it comes to decorating outdoor spaces. Auburn wanted only the best which is why they chose Cushion Source.
The Auburn Athletic Department and Coach Chizik can be confident that their Sunbrella cushions and teak furniture will bleed Auburns colors for years to come and remain looking as good as new. The next addition of teak furniture and Sunbrella fabrics came across campus at the Student Center.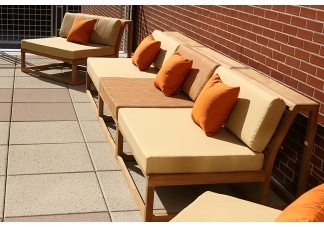 Auburn's Student Center was completed in 2009 and provides services and facilities needed for the social, personal and academic development for every student, faculty and organization on campus. This lovely new building on campus called for beautiful new outdoor furniture and cushions. Auburn chose Teak Furniture Outlet and Cushion Source once again to complete their custom outdoor design needs.Auburn chose the Westminster Maya Series for its teak deep seating collection. The deep seating cushions are made with Sunbrella Sesian Sesame and Sunbrella Marcella Sunset. The pillows are covered in Sunbrella Tuscan.
The completed teak and cushion sets give the Athletic and Student Center a sophisticated look with a touch of Auburn Style. Auburn's new outdoor products represent Auburn for the university that it is: long-lasting, withstanding, reputable and lovely. This gives fans another reason to call Auburn not only the loveliest, but the trendiest village on the plains.